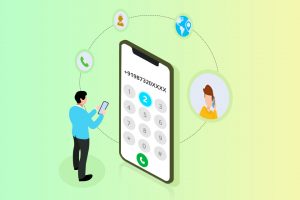 The US virtual phone number is a telephone number without a specific location, but it is associated with the customer. Usually, such numbers are routed to other telephones chosen by the client, fixed or non-fixed VoIP, or any internet-enabled device like mobile or laptop. The virtual number is quite portable and doesn't require any physical office. US virtual number is ideal for people without any technical knowledge. It offers features like recording voice messages and even using separate devices for the same number that sends and receives calls. It is suitable for consistency for your customers and vendors.
The virtual phone number for SMS and calls is the best solution for your business use. The range of virtual numbers is unlimited, and you can call or message people without any hindrances across the borders and around the globe. There is no need to use any SIM cards or wired connections, and the numero virtual USA is accessible at any place at any time. This drastically helps the business by saving time, money and making the process really easy. There are services like virtual phone number free SMS for the beginners who just want to test the app and then pay for it if felt suitable.
You can buy virtual phone numbers with SMS and Calls by following just a few simple steps:
Choose an app that you feel is suitable for your work
Register yourself with your personal account
Choose a plan or take a free trial first, if available
Generate US phone number (SMS or Call or Both)
Choose the operator code and setup or link the number according to your requirement
Check the details again and confirm your order.
If you still have second thoughts about shifting your traditional phone number to virtual numbers for SMS and calls, then here are some key benefits for the same:
Saves time and money: Virtual SMS and calls can save a lot of money spent on professional installation and maintenance. There is no extra expense in using a virtual SMS number. These VoIP SMS and VoIP calls need no specific location as required in a wired connection, so you can do your job anywhere anytime, saving a lot of time to reach the office or the place where the physical telephone connection is being set up. There is also a marginal difference between the maintenance cost and virtual text number or calling number charges. The VoIP connection is a lot cheap and better in every aspect. There is a feature of free virtual phone number for SMS and calls that can never be found in non-VoIP numbers.
Easy structure of your phone system: The virtual phone systems tend to scale quickly at a low price which is vital for business growth. A scaling phone system refers to share the same phone number with different employees to make calls or SMS to the customers and vendors without changing the number. This makes the business look more professional and creates a better identity and a sense of trust among people. You don't have to call your employees to the office just to attend to customers as they can even work from home using the VoIP feature. All it takes is just a few clicks to do significant tasks like assigning phone numbers to employees, decide permissions, and syncing the contacts quickly and really easy to edit afterward, if needed.
Improves consistency: The virtual number SMS calls shows the same assigned number to all the customers and vendors, even made from the different devices to look more professional. This brings a sense of consistency in people's minds about your business. Suppose events like change locations or swap devices happen, and you want to maintain professional consistency. In that case, you must go for the virtual mobile number for SMS verification and calling services.
Easy and Memorable Number: It gets a lot easier for you to have a toll-free number, which shows that you value your customers and offer call services from anyone. You can enhance your business scale by selecting a "vanity" number because they're easy to recognize and remember. You can customize your toll-free number to look more attractive and easy to remember. You can choose different numbers in different departments of your business to organize the calls and reach out to the customers in a better way.
Valuable and Secure Call Data: Virtual phone systems can conveniently record your phone calls and save the call data for future analysis and training purposes. It's easier to access that data with any design you use, like the CRM and communication systems. This data is secure, and no one can use it without having your permission. The earlier process was manual note-taking which was very time-consuming and inefficient. No one actually wants to work with someone who has issues in their security practices. Virtual phone systems provide such a secure Real-Time Protocol and provide a layer of protection that analog phone systems can never offer.
Helps in business growth: The virtual number system also helps analyze the conversations while the call is still happening and further summarizes and highlights the critical points of the entire call. This immensely helps in achieving better outcomes and shows the scope for improvements in the department. The message forwarding system help in reaching out to people across the globe and hence increasing the customer base. In this way, you can plan to scale your business on a higher level by learning more about your customers.
Wrapping Up
Choosing the USA phone number is a crucial task for the betterment of your company. There are unlimited unused phone numbers online that can bring a professional look to your business and keep your team organized. After the study of all benefits of having an online phone number, it is pretty clear that analog phones are obsolete and inefficient. The features provided by virtual numbers are way better in every aspect. We hope you now have no doubts and bring this positive change in your business for better results.